JOYLAND is the new CD by Dawayne Bailey. The term "joyland" covers a myriad of meanings. Dawayne has always felt his music has never been of the "perky variety" and chose Joyland as a term of irony, sarcasm and humor.
The cover speaks for itself as Miles, the white boxer, sits in solemn seriousness - sporting his monk-like shroud in heavy ponder mode....and destiny...of a snack.
Joyland is also a real place. An old school amusement park that resides in Wichita, Kansas. It was where, as a child, DB first rode his first rollercoaster. Since then, he has developed a love/hate relationship with extreme coasters and decided to go back to a simpler time and place where it all began at 2801 S. Hillside Street.
Joyland also became a metaphor for the set of songs contained within. A place on the outside that offers happiness, thrills and joy, but within the "rides" i.e. "songs" reveal other attitudes and emotions as well. A diverse trip of moods and styles.
The set begins and ends with "Joyland In Trance" and "Joyland Out Trance" with short interludes in between to connect the dots....or rather...the songs.
There are dedications to heroes and one that is dedicated to a person who...ummm...not so much. That itty bitty ditty is called "The Ashlee Simpson Variations", which is based on her hit "Pieces Of Me". DB expresses this by playing and recording 3 separate tracks of piano, based on the variations of a theme.
Hero dedications are to DB's children Hilary & Blair (11), Rona M. McDonald (2), Jimi Hendrix, Stevie Ray Vaughan, Carlos Santana (3), an intoxicated E.T. (5), Kevin Gilbert (6), Wes Montgomery (9), Eddie Harris (10), Andy Summers-Sting-Stewart Copeland-The Police (14).
Rona had a major hand in the creation of Joyland by singing, playing drums, production and engineering, graphics design and much more. In honor of her father, Albert McDonald, Dawayne and Rona recorded the song he wrote in 1969 called "Please Don't Go". This song is all about "that Sixties vibe". We love and miss you, Al.
Peter Wolf produced the (still) unreleased Chicago recording Stone Of Sisyphus and offered his services on "My Miracle". Together, he and DB play keyboards on this Todd Rundgren-inspired track.
There's a little bit of Joyland in all of us and we hope you enjoy the ride.
Tracklist:
1 Joyland - In Trance
2 My Miracle - featuring Peter Wolf (producer of Chicago's Stone Of Sisyphus project)
3 Stevie's Ray Shines On Jimi's Carless Antenna
4 Her Last Request
5 E.T. Sauced
6 The Sad Parade
7 Private Parts 2006
8 Please Don't Go
9 Wes Is More
10 Freedom Jazz Dance
11 Man In The Moon
12 Fresh Of Breath Air
13 Daily News Blues
14 Andy's Sting Stew
15 Pharm Phunk
16 Kiss Of The Kath Klowns
17 The Ashlee Variations
18 Joyland - Out Trance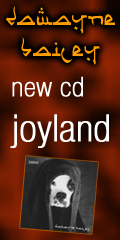 >