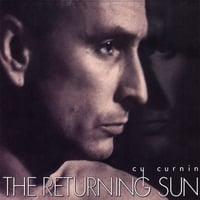 Cy Curnin The Returning Sun, his new album is out! As Cy Curnin still sings in The Fixx, "one thing leads to another," and what better way to celebrate one's life at 50, than to self-release your second solo album "The Returning Sun" and to climb Mount Everest with 40 people for charity and get in the Guinness Book Of World Records for putting on a rock concert at the highest elevation in history?
But Cy Curnin always did things a little differently than most. After hitting the top of the pops in The Fixx, he turned his back on fame to raise a family and design his own successful apparel brand, Cy-Wear. Moving to France from New York for love and wine, he has bought and maintained a working sheep farm, continues The Fixx, and, now, as a personal challenge to celebrate life and help people with cancer (check www.lovehopestrength.com), has climbed Mount Everest with other musicians, cancer survivors and mountaineers to stage the world's highest rock concert.
The Returning Sun is available at www.cdbaby.com. Cy Curnin has purposely sidestepped the obvious label interest he would have easily garnered - just as Prince, Paul McCartney, Radiohead and Joni Mitchell have recently done-in an effort to maintain complete control.
The album of Cy Curnin "The Returning Sun" is extremely personal. "Having gone through a second divorce," he says, "there was a lot of personal stuff coming out in my music that I felt didn't quite suit the band mode. The band is a club of gentlemen who don't need to hear me prattling on about my insecurities."
Cy Curnin is living proof that life, indeed, begins at 50. "Musicians," he explains, "when their bone structure relaxes, the tone of the music becomes more vital. There's less angst and more tonality. I felt my voice had improved. I didn't have as much tension in my upper body. The body changes shape and it ameliorates the voice."
If he survives the mountain, he plans on touring. "I've got a gang of young musicians in Los Angeles and Paris just itching to go out on the road with me!"
Bottom line? "People have been asking me, 'what are you going to do when you're 50? Are you going to have a party?' Nah, I really need a challenge, not a party. Something like this changes your whole attitude. I've lost some family and friends to leukemia. It's celebrating your own life, and trying to wave a flag for someone else." says Cy Curnin.