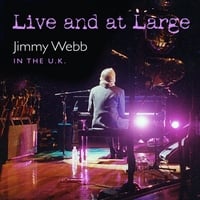 The legendary Jimmy Webb is producing Carly Simon next album that will be released in 2008 (no tentative release date yet announced). 4 songs are penned by Carly Simon and his son Ben Taylor (his father is James Taylor!). According to different sources, Carly Simon new CD will be influenced by South America and Brazilian music styles like Bossa Nova.
Carly Simon and Jimmy Webb (producer, arranger, songwriter, piano player and singer) have already worked together in the past. Jimmy Webb sung an original duet with Carly Simon "Spring Will Be A Little Late This Year" on her "Film Noir" album back in 1997.
In 2007, Jimmy Webb has released his own CD in concert (19 sequences) : "Live and at Large: Jimmy Webb Live in the U.K." singing and playing greatly some of his classic stuff more known by interpretations of artists like Richard Harris, Art Garfunkel, Frank Sinatra, Rosemary Clooney. This album can be ordered at CDBaby.