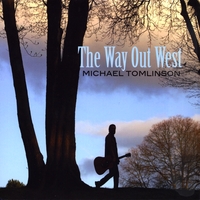 1. The Way Out West
In the 1980s I drove from Austin, Texas, to Seattle, Washington in my beat up Rambler station wagon. Everything I owned that wouldn't fit inside was sold or given away. I had the strange fluke of having a radio hit from a cassette tape played at a Seattle radio station. I didn't even have a record out. I was excited to enter a thrilling new chapter of my life, but grieved that I was leaving all that I knew behind. But there was a life here in the Pacific Northwest awaiting me that I could never have dreamed of. The rain and trees and mountains and rivers and good hearted people I met changed me forever. "I woke up in the cool, clear rain and I came alive. . . "
2. Valentine
I was thinking of the many times as a boy when I'd had a crush on a girl who didn't even know I existed. Remembering Valentines Days when I'd sneak an oversized, lace-embossed valentine onto the desk of some unsuspecting girl who would had never spoken to me. The Valentine was always more suited for a man to give his wife on say, their twentieth anniversary, than for a little ten year old to be giving to the cutest girl in class. 
3. Wild Horses Run
Though it is not about him, I was writing this song in the final months of my father's life. Every time I would sing the line; "How I wish I was young, heading out on the wide open plains where I was born. . . " I would think of my father nearing the end of his life and tears would come to my eyes. It's really a song about how animals and the Natural World have given me hope again and again in my life.
4. One Way Through
I know we all suffer from the same problems, the same wounds and pain, but it can feel so much like you're the only one hurting sometimes. Haven't you ever looked around and wondered if anyone else in the world could possibly understand the pain you are in? "If the world became all that you yearned for, tell me what would fill all the lovely, lonely, longing hours of your yearning?"
5. Seattle Skies
One of my favorite songs I've ever written. This song is both about my love of this city I live and and of my intense love since boyhood of the infinite moods of weather, the wind and rain, the sun and snow. It has always meant something more to me than to most, I'm not sure why. When I wrote the line: "I thought of weather as my friend" I actually had to stop because I was crying. I take long, meandering hikes around the city in all kinds of weather, down ravines and up wooded trails, across neighborhoods and along rocky beaches. It keeps my heart alive.
6. Big Moon
A friend and I were walking our dogs one April evening in Seattle. The time had just changed to daylight savings time and the whole city seemed to be out enjoying the longer days. The moon rose on that chilly early evening and seemed so large and reaffirming that everywhere we walked there were people standing in their yards looking up at it. It was such a beautiful thing seeing people of all ages outside talking and laughing beneath that giant moon.
7. Another Way to Love You
My sweetheart, Patricia, played my music for a friend who scores movies and was doing a children's CD/book. He asked me to write a song for a well-known female singer to sing in his upcoming project. He told me a story about kids befriending a tree and playing all their games in it's shade and that gave me the inspiriation for this song. The project never got off the ground but my girlfriend kept telling me I should record the song myself, that people were going to love it. It took me a long time to believe her but I'm so glad I did. "See that leaf blow by, the way it rolls and tumbles past your eye? It is no accident, from some ol' tree it is a message sent. It's just another way to love you. . . "
8. Things That I Don't Know
There has never in my lifetime been an autumn that did not bring a beautiful melancholy into my heart. To watch the garden die each year gets harder the older I get. I guess it reminds me of my own autumn and of the springtime of my life that seems so long ago now. I truly love this song. "When the wild geese fly from the northern sky, and the sunflowers die on the stalk. It seems like love has gone with the waning sun, as the lonesome nights grow long."
9. Flag of Human Kindness
When it became apparent that my country was actually going to start a war in Iraq, I felt that the dream of this nation had died. The things I'd always been taught that we stood for seemed lost and that meant that we, the citizens of this country, were lost. I began a song; "I was born here in this land, under the flag of hope and freedom. Now it seems such a faded dream, like a dream that's lost it's meaning" I could not finish the song before the war began and so I dropped it. I felt that I'd failed, as if a song could have changed our course. It was three years later when I remembered it one day, picked up my guitar and tried to find the chords. It was unfinished but when I played it I cried. That told me that I had to complete it. I realized that it was a song about all times in our history, not just that one particular moment. It is about now. "There is a braver flag to unfold, the Flag of Human Kindness."
10. One Breath
There is a feeling, a soothing vibration that permeates almost all of my music that resonates of forgiveness. I have long believed that so much of what we yearn for, the answers, the patience and wisdom and peace we seek, is available in our breath. Every religion I've ever heard of proclaims that God breathed life into humans. In that breath I believe is love and the connection to All That Is. And whenever I follow my breath long enough, when I have the courage and patience to stay with it and breathe and breathe and breathe, I always come to this one thing: self forgiveness. It seems like the only place we can truly start. "Overnight a lot can change, you can go from cloudy gray to the morning, brilliant blue. Oh, it's all for you, the purest part of the sky and the ocean too. There you are, there it is, everything that life has to give."